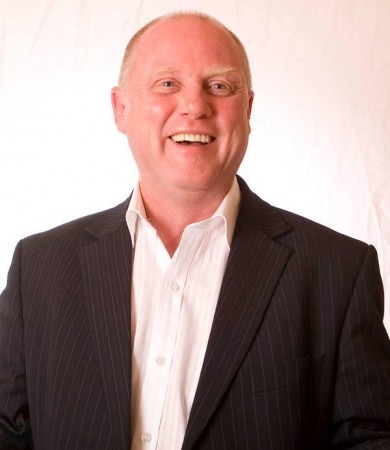 For 30 years Andrew Considine has gained extensive experience providing support, guidance and strategic direction to individuals, businesses and organisations, both public and private, in the field of personal and professional development.
For over a decade, Andrew has been an employee assistance professional providing the necessary tools and skills in helping business owners and corporations to develop and achieve their professional goals.
Through his company 'Inspire to Achieve' Andrew focuses on personal and professional development, understanding that both aspects are inseperately linked.
Andrew provides his extensive knowledge and skills through personal consultations and coaching, executive coaching, project management, training seminars and workshops as well as motivational speaking events to audiences both in the national and international arena.
Thank you very much Andrew for your presentation on the 
Business Mind-Set and Key Habits to Achieving Your Goals 
at the Wallstone Financial Planning seminar in Limerick.
I can honestly say that you managed to impart your vast knowledge and experience 
in a very easy to follow, entertaining and down to earth manner. 
I have previously been to see the likes of Brian Tracey, Jack Canefield 
and many others in this area of expertise. 
I can honestly say that I came away with more clarity and focus 
from your presentation than  any of the others I have seen or heard.
Keep up the great work.
Thanks again
 -Barry Meehan – Managing Director of Sean Kelly Cycling
I have just learned a most valuable lesson in Andrew's training seminar and that is that I am wasting valuable energy and time by being concerned about what others think about me – I now know that what really matters is what I think of me think – This seminar has made me feel so confident in myself.
 -Peter – Transition Year Student
Andrew's talk has really opened my mind and has shown me how to think positively and I now believe that I can achieve my dreams. I think the whole world should get to hear Andrew speak – he is so inspiring'
 -Emma – Student
Andrew has inspired and motivated me to keep going with confidence and how to use my mind to get even better results.
 -Colm Monaghan – Director, Sign FX
Excellent talk! Andrew illustrates so articulately and passionately how to get the results you want in both work and personal life.
 -Kieron – HSE Ireland
Inspiring and motivating! Andrew's talk defibrillated my mind and motivated me to keep my pulse rate up!
 -Mark – Public Service Accountant
I first hired Andrew in 2009 for career coaching. For me it was the first step on a path of personal development and growth which has helped me gain tremendous clarity focus and direction.
-David – Tax Consultant, Dublin
Andrew, your workshops here in Warsaw have been so inspiring and so many have made positive and significant professional changes in their lives, we look forward to working with you again in Poland.
-Iga – Polish Association of Motivational Interviewing, Warsaw, Poland.
Andrew's vast experience and qualifications has made him an exceptional business and life success mentor. Working with Andrew has made such a positive impact to my attitude and my approach to my career that I didn't think was possible prior to meeting him.
-John – Lego Graphic Designer
Andrew is totally inspiring; he transforms your perceptions and motivates self-belief.
-Brian – Security Systems
If it's results you want then Andrew certainly motivates you in being to achieve them.
-Kevin Dwan – Chartered Accountant MBA
Andrew has made such a positive impact on my life.
-Kate – Dublin
As my personal and professional mentor, Andrew has guided me in being able to make I have made significant positive changes in my life that I didn't think were possible. Through Andrew's support I now have the confidence and the belief to take my life even further.
-Ian – Engineer
Andrew speaks on topics that embrace the personal, spiritual and professional elements of our lives.
To explore how Andrew may be of help to you or your business, feel free to contact Andrew for 'your 15 minute free, no charge, consultation.
I am looking forward to the next speaking event with your company
Contact Andrew Considine – Professional Success Mentor for speaking engagements for personal or business. One on one coaching for personal wellbeing as well as corporate events.